Search & Rescue
The Lewis County Search and Rescue program is under the guidance and direction of the Lewis County Sheriff and his designees. The program is greatly dependent upon the efforts of many volunteers from the local communities and could not exist without their dedication.
In 1959 the Mossyrock Search and Rescue Unit was developed to fill the need for an organized search and rescue unit. They were joined by Salkum in 1977 and Packwood in 1978. In 1986 the Civil Air Patrol organized the Fire Mountain Squadron.
The Sheriff's Posse was reorganized as a SAR unit in 1987 and the Cascade Dogs Unit was formed in the same year. The Divers joined the other units in 1991. The Lewis County ATV Unit joined in 1992. Current membership exceeds 180 volunteers. These missions involve looking for kids, hikers, hunters, skiers, mushroom pickers, elderly, as well as physical rescues.
The Lewis County Sheriff's Office provides six commissioned deputies to organize and coordinate the search and rescue program. These are patrol deputies who also perform regular patrol duties. During a search and rescue mission the coordinators work in teams of two to oversee and supervise the search by providing defined search areas, mission requirements, search and recovery resources, and ensures team safety. The Sheriff's Office also provides equipment and mobile command posts.
Search & Rescue Teams
Mounted Posse
The first Lewis County Sheriff's Posse was formed in 1947 under the direction of Sheriff Earl Hilton. It was disbanded in 1960. Twenty-seven years later, in 1987, a new Sheriff's Posse was formed with twenty-two chapter members. This is a horse mounted search and rescue unit designed to cover trails and roads in the area of a lost individual. All unit members are trained in map/compass and first aid/CPR. They have also trained in emergency horse care. The unit has responded to numerous missions and participate in classes at the Cispus Center. Demonstrations include packing and loading gear on animals and the essentials carried in the members saddle bags.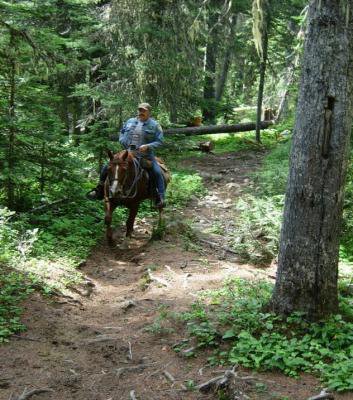 Cascade Dogs
The Cascade Dogs Search and Rescue Unit was established in Lewis County in 1987 with two search ready dog teams. Membership now includes about twelve teams. Members raise and train their dogs themselves and certify in wilderness air scent, human remains detection, trailing, and water search techniques. In addition to their canine companions, handlers undergo extensive training and evaluations before they are certified as search ready including demonstrating proficiency in map/compass, survival, search strategy, basic first aid/CPR, and radio communications. Members spend many hours in field training and it can take a year or more before a team is certified as operational. Cascade Dog teams have been called to assist in searches in other counties as well.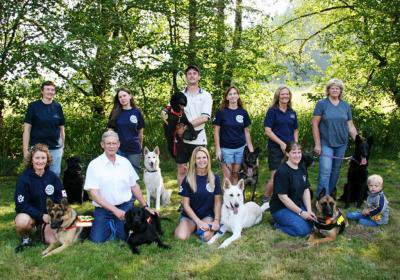 Lewis County ATV Search and Rescue
The Lewis County ATV SAR unit was formed in 1992 and has approximately 12 members whom operate and maintain their own ATV's. The unit's primary mission is to provide All Terrain Vehicles to be used in SAR missions. This means, not only do unit members use their ATV's through harsh terrain where larger vehicles cannot pass, they can also be utilized for transportation of searchers, evacuation of search victims, or movement of needed equipment, and they are equipped to offer winch capabilities to assist in certain rescue situations. Plus, members may lend support to other SAR groups and can act as ground teams when the need arises. The unit may also occasionally respond to out of county searches.
The members are committed ATV riders, who maintain standards in Basic First Aid/CPR, Defensive Driving, and all required WAC training. Regular trainings include rides through rough terrain, patient packaging and transport, GPS, map reading, equipment maintenance, and most matters of search and rescue.
Lewis County ATV Search and Rescue is always seeking new volunteers from the local communities. Individuals are encouraged to join ATV SAR if they want to volunteer their time, have a desire to help others, and a willingness to participate as part of team that makes a difference in Lewis County. For more information, contact the Lewis County Sheriff's Department or the ATV Unit at LCATVSAR@hotmail.com
Mossyrock Search and Rescue
Forty years ago, in 1959, Mossyrock Search and Rescue was developed to fill the need for an organized search and rescue unit. Orville "Porky" Amondson was the Sheriff at the time and it was with his help that the unit became reality. Governor Albert Rosellini helped the unit to obtain insurance coverage through civil defense. Through various fundraisers, donations, and help from the Lewis County Search and Rescue Council, the unit has kept it's equipment updated. The unit maintained a fourteen passenger bus as a mobile command post for many years. It has been retired and the Sheriff's Office is providing two new command posts. The group currently has approximately thirteen members and specialize in the use of snowmobiles and tracking. They have assisted in untold numbers of missions and participate in Cispus Center and Hug a Tree programs.
For more information about the Mossyrock SAR Team you can email them.
Packwood Search & Rescue
Packwood SAR has been in existence for several years, but was reorganized in 1978 under the direction of the Lewis County Sheriff's Office. This unit has been the first responder team for most all searches in Eastern Lewis County because the members live close to areas most responded to and can usually activate and respond within thirty minutes. The unit has approximately thirty members involved in ground and climbing missions. The team has participated in rescuing stranded mountain climbers and lowering rescue/medical/dive personnel in to otherwise inaccessible areas. Some members are also trained in man tracking. Members participate in demonstrations at the Cispus Center featuring the safety features encompassed in the network of ropes and harness.