Curbside Recycling, Cart-Tagging Project & Countywide Recycling
Curbside recycling is a program in which customers pay for a 96-gallon tote to be picked up every two weeks. LeMay, a division of Waste Connections, offers this service. LeMay's phone number is 360-736-4769.
The following items can be included in curbside recycling containers:
***Please make sure all containers are empty, clean, and dry.***
Newspaper
Magazines
Corrugated Cardboard
Office Paper
School Paper
Junk Mail
Tin Cans
Aluminum Cans
Plastic Bottles
Plastic Jugs
Plastic dairy cups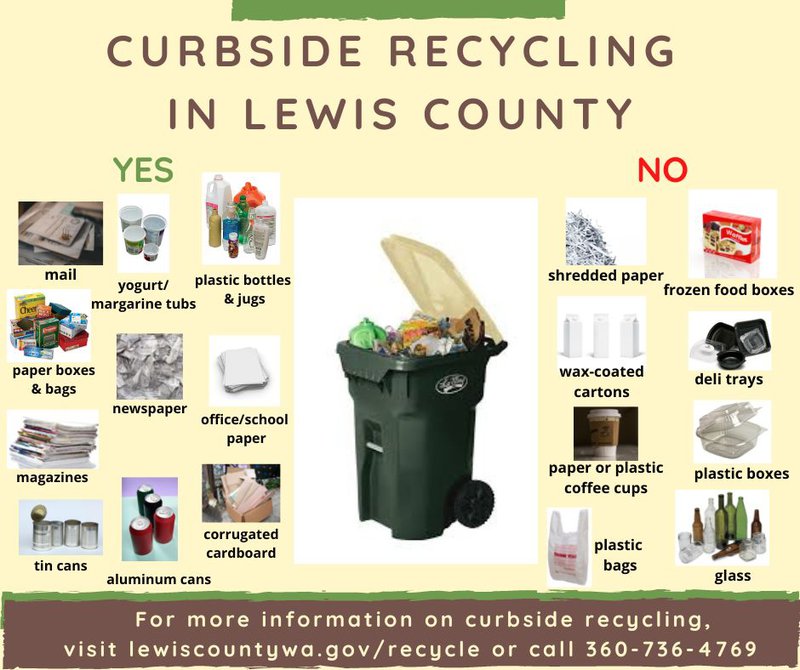 Cart-Tagging & Lid-Lift Audit:
Sorting out what to include in your curbside recycling container will soon be easier, thanks to a grant from the Department of Ecology.
On April 17, a cart-tagging project to educate recycling customers and to reduce the amount of garbage that goes into curbside recycling bins will start.
A consulting firm will work with LeMay, the local recycling company, to place educational tags on the handles of all 20,000 recycling carts in Lewis County. One side of the tag will list the materials customers should include in curbside containers. The other side will remind them to keep their recyclables loose -- not bagged -- and to keep plastic bags out of the recycling cart. The first part of the project runs through April 28. A second round of cart tagging is scheduled to take place June 5-17.
During both phases of the project, teams will give personalized feedback to about 20 percent of the route customers. After opening the bin, the team tag the cart a report card marked with items that shouldn't be in there.
The goal of the project is to reduce contamination, or garbage, in curbside recycling carts, and help more materials placed in local recycling carts, actually get recycled, according to Melanie Case, recycling program coordinator for the Lewis County Department of Public Works, Solid Waste Utility.
The Utility received a Waste Reduction and Recycling Education grant from Ecology to conduct the contamination reduction project.
Anyone with questions on this project, can call the Utility Division at 360-740-1451.
Curbside Recycling East of Morton:
The Lewis County Board of Commissioners (BOCC) approved a measure following a public hearing in January that expands curbside recycling to residents living east of Morton. The hauler providing this service, LeMay, a division of Waste Connections, is working to secure a recycling truck to service this route as well as containers to deliver to customers. Look for announcements on the program's start in the next few months.
Commissioners approved Ordinance 1339, which will be codified as Chapter 8.10 LCC, to allow for a curbside recycling program in all the unincorporated areas of the county. It sets the boundaries for the program, lists what recyclables will be picked up, and outlines the service levels available to customers.
The program that collects recyclable paper, plastic bottles, jugs, tin cans, aluminum cans, and cardboard all in one 95-gallon, wheeled container costs current customers $8.49 per month. A 55-cent rebate is offered each month, based on the proceeds of the sale of recyclables. The previous program extended from the county's western border at Pe Ell to the city of Morton and its urban growth area. It has approximately 19,000 customers and keeps nearly 3,600 tons of recyclables out of the regional landfill annually.
Residents who already have garbage service will automatically receive the recycling containers. Residents who don't currently have curbside garbage pickup, but are interested in signing up for this service, can call LeMay at 360-736-4769. Residents also have the option of subscribing to recycling only pickup by calling LeMay.
If you have questions about the expanded program, please don't hesitate to call 360-740-1451 or email swu@lewiscountywa.gov. Here is a link for additional Lewis County recycling information: www.lewiscountywa.gov/recycle.