Hazo Hut
Motor Oil and Antifreeze Recycling
Customers bringing oil to the Central Transfer Station, 1411 S. Tower Ave., Centralia, are only be permitted to drop off motor oil and antifreeze on Wednesdays and the first and third Saturday of each month from 9 a.m. to 4 p.m., when the Hazo Hut is open. Each customer will be permitted to drop off 5 gallons of motor oil during these times. RCW 70A.224.030 limits each household to depositing 5 gallons of motor oil each day. Please see a flyer for additional community drop-off locations for motor oil.
Hazo Hut serves Lewis County residential customers, and is located at the Lewis County Central Transfer Station
1411 S. Tower Ave., Centralia, WA 98531
Map to Central Transfer Station
Hours: 9:00 a.m. - 4:00 p.m. every Wednesday and the first & third Saturday of the month
360-740-1451 or 360-740-1221
Closed all holidays.
Paint Disposal through PaintCare
Hazo Hut at the Central Transfer Station in Centralia has changed the way it collects latex paint. It no longer accept latex paint. Latex paint is not hazardous. Washington state has implemented a new product stewardship program for various types of paint, including latex, called PaintCare. Here is the link to find PaintCare locations in Lewis County, where you can drop off latex, and other paint, for free: PaintCare.org.
Rodda Paint, 920 NW State Ave., Chehalis, (360-748-3581) and Mossyrock Hardware, 249 E State St., Mossyrock, (360- 983-3333) are two PaintCare outlets in Lewis County where you can recycle certain paints for free.
Here are the acceptance rules for these two sites:
Who Can Use The PaintCare Program:
Households and Businesses

Restrictions: Limit: 20 gallons per visit.

Hours: Paint is accepted during regular business hours. Please call ahead for hours and to make sure the store can accept the amount and type of paint you would like to recycle.

This site accepts latex and oil-based house paint, stains and varnish in containers up to 5 gallons in size. This site does not accept aerosols (spray paint or other spray products), containers without original labels, or containers that are leaking or empty.
PaintCare Inc., a non-profit 501(c)(3) organization, represents paint manufacturers (paint producers) to plan and operate paint stewardship programs in U.S. states and jurisdictions that pass paint stewardship laws. It is a program of the American Coatings Association (ACA) a membership-based trade association of the paint manufacturing industry. Working through the Paint Producer Stewardship Initiative (PPSI) facilitated by the Product Stewardship Institute (PSI), ACA supported the passage of the nation's first paint stewardship law in Oregon and established PaintCare in 2009.
Since then, PaintCare has launched programs across the country following the passage of similar laws in California, Colorado, Connecticut, the District of Columbia, Maine, Minnesota, Rhode Island, Vermont, and, most recently, Washington and New York.
Rules & Limits at Hazo Hut
NO SMOKING IN THE UNLOADING ZONE!
Rules:
One visit per opening
Residential waste only
Business waste by appointment only
No pharmaceuticals
No explosives or ammunition
Sharps must be in a sealed container
Limits (per visit):
10 CFL lights
5 gallons motor oil (only on days the Hazo Hut in Centralia is open)
5 gallons antifreeze
Latex paint will not be accepted starting June 1, 2021
5 gallons cooking oil
No containers over 5 gallons
We reserve the right to refuse service.
Examples of items accepted at Hazo Hut:
| | |
| --- | --- |
| Adhesives | Super glue, wall paper, floor cement, etc. |
| Aerosols | Deodorant, insect killer, air fresheners, spray paint, etc. |
| Animal poisons | Mice, rat, mole, etc. |
| Automotive waste | Motor oil, antifreeze, transmission, hydraulic, brake fluid, gasoline, kerosene, etc. |
| Batteries | Automotive, ni-cad, lithium, Ni-MH batteries, button cells, sealed lead acid. |
| Chem-Lab chemicals | Children's science sets, photography fluids, etc. |
| Cleaning agents | Bleach, ammonia, acids, alkalines, soaps, scouring powder, degreasing detergents, etc. |
| Herbicides | Grass and weed killer, moss killer, etc. |
| Paint waste | Oil base, thinner, aerosols, etc. Only 10 gallons per visit until May 31, 2021. Then, latex paint will not be accepted. |
| Pesticides | Diazinon, malathion, metaldehyde, moth balls, etc. |
| Solvents and flammable liquids | Toluene, acetone, methyl ethyl ketone, wax remover, etc. |
| Propane tanks only. No refrigerant tanks! | 7 gallon or less. |
| Fluorescent lamps | Mercury-containing lights. Charges apply for more than 10 lights per day. |
| Cooking oil | Vegetable, peanut and other cooking oils only. |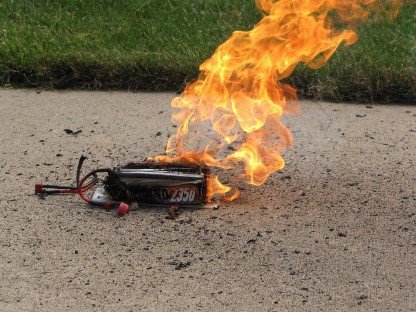 Damaged, Defective, or Recalled Lithium Batteries:
There have been several incidents involving both lithium primary (non-rechargeable) and lithium-ion (rechargeable) batteries. Damaged, defective, and recalled lithium batteries are hazardous and require special handling. Purchase one of the specialized Call2Recycle products with special handling instructions for your damaged battery by clicking here or call 1-877-723-1297.
Business, School and Non-Profit Customers With Unwanted Chemicals
Lewis County's Moderate Risk Waste Program offers a disposal option for conditionally exempt small quantity generators (CESQG) operating in Lewis County. To qualify for the CESQG program, a business, school or non-profit organization must generate less than 220 pounds of hazardous waste per month.
Contact the Lewis County Moderate Risk Waste Coordinator at 360-740-1221 to schedule an appointment to bring in unwanted chemicals. Fees are due the day of delivery. Forms of payment accepted include: Cash, check, Visa, MasterCard, or Discover.
Small businesses qualify for free fluorescent light recycling when turning in 10 lights or less. Businesses will receive free recycling of straights lamps, CFLs, U-tube lights, high intensity discharge lights, or specialty lights when 10 or less lights are dropped off on day of appointment. Please call 360-740-1221 to schedule an appointment to bring in spent fluorescent lights.
Household Hazardous Waste at East Lewis County Transfer Station, Morton
Household hazardous waste items that can be dropped off during Morton's regular hours: Mon.-Sat. 8:30 a.m. to 5:00 p.m. In-bound gates close 15 minutes prior to facility closure.
TVs, computer monitors, computer towers are accepted for a fee at both transfer stations.

TVs and computer monitors are $25.00 each.
CPUs are $6.00 each.
Laptops are $31.00 each.

Fluorescent lights contain mercury. These include tubes, compact fluorescent tubs and HID lights. Customers may drop off 10 of these lights per day.
Used motor oil: There is a 5-gallon limit per household per day
Antifreeze: There is a 5-gallon limit per household per day
Satellite Household Hazardous Waste Collection Events at the East Lewis County Transfer Station
These are quarterly events for all other household hazardous waste items. These events take place from 10:00 a.m. to 2:30 p.m. In 2022, the scheduled dates are:
Examples of these items are non-residential paint, cleaners, lawn, garden, and pool chemicals. Businesses may not bring hazardous materials to the East Lewis County Transfer Station. For more information, please call 360-740-1221.
Satellite Collection at Community Recycle Events for 2022 are scheduled. The hours for the following events are from 10:00 a.m. to 2:00 p.m.:
June 11 at the Pe Ell Town Hall
Canceled due to the Goat Rocks Fire and evacuations in the area. Please stay tuned for rescheduling information. Packwood Community Hall on Sept. 10
Sept. 24 at Pe Ell Town Hall
Oct. 8 at the old Winlock Drop Box
Please click here for more details on these Community Recycle Events.
Be prepared to leave your containers at the event. Satellite collection staff will have no way to empty the containers and return them to you.
E-CYCLE Washington
The items listed below can be taken to Goodwill, Centralia; or Tiger Mountain Technologies, Morton, for FREE as part of E-CYCLE Washington. Click E-Cycle Washington for details on the program.
Televisions
CPU (computer towers)
Computer monitors
Laptops


Items not accepted at Hazo Hut, and alternatives for disposal
Asbestos -- Lewis County Transfer Station 360-740-1451 or 360-740-1481
Explosives and ammunition -- Lewis County Sheriff's Office 360-740-1266
Empty containers (includes paint cans, aerosol cans, oil containers, antifreeze containers, garden chemical containers) -- Wrap in a garbage bag and dispose of in the garbage.
Water (in paint cans and buckets and antifreeze containers) -- allow to evaporate
Rinse water from latex paint brushes and rollers -- allow to evaporate
Dried paint (latex or oil based), tar or asphalt -- place in a plastic garbage bag, tie and place in a garbage can
Latex paint will not be accepted starting June 1, 2021
Containers of latex paint less than 1/2 full -- remove lids, mix kitty litter (or dirt or saw dust), allow contents to dry, wrap in a garbage bag, dispose of in the garbage
Alkaline batteries -- dispose of in the garbage
Pharmaceuticals -- Lewis County Public Health & Social Services and Sheriff's office partner to provide residents a safe option for disposal of unused medicines. Please click here for more information.
Medical or biological waste -- Lewis County Public Health & Social Services, Environmental Services 360-740-1417
Radioactive Material -- US Ecology 509-372-7950