Recycling in Lewis County
Why Recycle?
Recycling is the best way to preserve resources and to keep valuable materials out of landfills. Items such as cardboard, newspaper, magazines, plastic bottles, tin, and aluminum cans can be easily collected, recycled, and turned into new products. 
Drop-Off Recycling
In Lewis County, Solid Waste Services operates drop-off centers at the two transfer stations. For more information on drop-off recycling please see the Transfer Station Recycling page.
Free Community Glass Recycling Boxes
When the commingled curbside recycling program went into effect in Lewis County, glass was one commodity that was dropped from the program. In order to ensure glass bottles and jars are recycled a convenient system of community glass recycling boxes was set up. Please separate glass bottles and jars by color: clear, brown, and green. The following is a list of locations: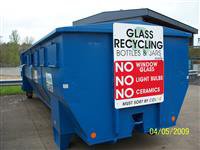 Central Transfer Station in Centralia
Forest Grange in Chehalis
Sewer Treatment Plant in Pe Ell
East Lewis County Transfer Station
Packwood Senior Center/Community Center
Curbside Recycling
Curbside recycling offers residents the convenience of having their recycling picked up at their homes. Commingled curbside recycling is offered from Hwy 7 and the city of Morton to the county's western border. City of Chehalis residences now have commingled recycling as an option, for more information on neighborhood curbside programs please call the following businesses: