Reserve Deputy Program
Sheriff's Reserve Deputies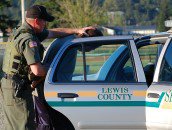 Lewis County Sheriff's Office has an active Volunteer Reserve Program. Reserve deputies typically work with full-time deputies in performance of their duties. Tenured reserves who have passed appropriate training are also allowed to perform patrol duties by themselves with minimal supervision. While the Reserve Program is a recruitment tool and a stepping stone for a full-time law enforcement career, it is also ideal for someone with an established career who wants be involved in law enforcement, and to make a positive difference in their community.
Requirements to be a Reserve Deputy:
21 years of age
No felony convictions
Valid Washington State driver's license
United States citizen
High school diploma or G.E.D. certificate
Good physical health and condition
Other agency requirements…
Testing
Physical Ability for deputy.
Structured in-house oral interview.
Polygraph examination.
Psychological evaluation.
Drug screening.
Criminal history and background investigation.
Reference check.
Physical examination.
For more information about our Reserve Deputy program please contact:
Jeff Godbey by E-mail:
Jeff.Godbey@lewiscountywa.gov
Andrew Scrivner by E-mail:
Andrew.Scrivner@lewiscountywa.gov
Our Mission
Being a committed community partner, providing professional service to enhance the safety, security, and quality of life in Lewis County
Our Vision
Committed to excellence in being a trusted, respected, and professional public safety agency.