What's in Your Pasture?
Do you have livestock? Are you isolating at home right now and looking for an excuse to get out of the house? Did you know that toxic weeds don't give a darn about an occasional hailstorm?
That's right. In these early days of spring, when its still too wet to dig or till or seed or fertilize the pasture, when you're inside staying healthy and dry, many noxious weeds and toxic plants are getting a jump start on their spring growth. In fact, some of the very first plants to emerge in the pasture are toxic to livestock. When they've waited all winter to eat some fresh greens, livestock may be more inclined to sample the fresh new growth of these toxic plants.
Now is a prime time to get out and walk those pastures or paddocks and take inventory of what is growing in your animal's enclosures. When most of the surrounding grass and vegetation is still low to the ground and often brown, it's a little easier to spot the new rosettes of many perennial weeds such as tansy ragwort, poison hemlock, lupine, and false hellebore [picture below], to name just a few.
Not only is spring a great time to identify toxic vegetation, but it's a good time to control some of these plants or plan your management strategy. While soils are moist and roots haven't grown too long, annual weeds can easily be pulled by hand. If larger toxic shrub species like rhododendron, yew, serviceberry, cherry, etc. have grown too close to fence lines, it would be a perfect time to prune these plants to keep them out of your animal's reach. Herbicides can also be applied when weather permits.
If you are interested in learning more about how to fine tune your pasture management plan for the health and safety of your livestock, check out Equine to Equisetum-E2E. https://www.facebook.com/932329626819007/posts/3073934629325152/?d=n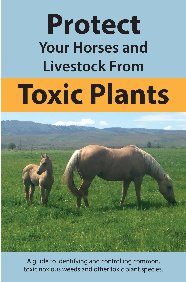 If you are interested in learning more about toxic plants common to Washington, check out this awesome publication from Washington State Noxious Weed Control Board. https://www.nwcb.wa.gov/pdfs/Final-WSNWCB-toxic-booklet_low_res.pdf
If you have any questions about plant ID or appropriate control measures for specific weeds, please contact Lewis County Noxious Weed Control at #360-740-1215, #360-740-1218, or email: weeds@lewiscountywa.gov
---