Transfer Station Recycling
COMMINGLED RECYCLING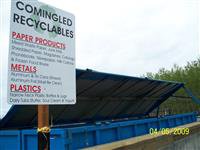 The following items are accepted in one mixed container: newspapers, magazines, mixed waste paper (junk mail), paperboard (cereal boxes), tin cans, aluminum cans, plastic bottles and jugs, cardboard milk cartons and juice boxes, yogurt cups, and margarine containers.
CARDBOARD RECYCLING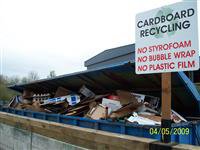 Corrugated cardboard goes in a separate container.
GLASS RECYCLING
All glass colors are mixed together.
No plate glass, window panes, ceramic bowls, Pyrex cookware, or mirror glass please! These products lead to contamination and will cause the program to be discontinued.