Transfer Station Recycling
COMINGLED RECYCLING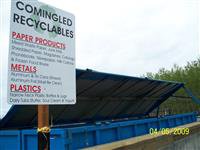 The following items are accepted in one mixed container: newspapers, magazines, mixed waste paper (junk mail), paperboard (cereal boxes), tin cans, aluminum cans, plastic bottles and jugs, yogurt cups, and margarine containers. No lids. Containers must be clean and dry. Please empty all recyclables out of plastic bags. Reuse bags or throw away. Please see pictures below for a quick and easy reference.
CARDBOARD RECYCLING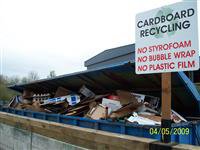 Corrugated cardboard goes in a separate container. This is cardboard with the wavy edge.
GLASS RECYCLING
All glass colors are mixed together and are disposed of over the white wall in the recycle area.
No plate glass, window panes, ceramic bowls, Pyrex cookware, or mirror glass please! These products lead to contamination and will cause the program to be discontinued.
Yard Waste Recycling
Grass clippings, leaves, brush, floral trimmings, and garden spoils can be disposed of in the recycle area behind the green wall. The cost of this service is a $5 minimum fee for up to 160 lbs., anything over that is based on a scale of $60 per ton.
Limbs, trees, and stumps are disposed of in brush pile past the recycle area. The cost of this service is a $5 minimum fee for up to 160 lbs., anything over that is based on a scale of $60 per ton.
We do not accept any noxious weeds in this yard waste program. Weeds must be disposed of with the garbage.
Scrap Metal Recycling
Any metal item that is at least 75% metal can be placed in the scrap metal bin in the recycle area behind the grey wall. Please be sure to drain all fluids from items such as lawn mowers. There is no charge for this service.
Appliance Recycling
Refrigerators, freezers, and other appliances with refrigerant cost $23.
Washers, dryers, ovens, etc. cost $10.
Televisions and E-Waste Recycling
We accept tv's and E-waste for the following fees:
TV's and computer monitors cost $25.00 each
CPU's cost $6.00 each
Laptops cost $31.00 each
Please keep in mind the following information when wanting to recycle these items.
E-Cycle Washington
The Electronics Law in Washington State provides recycling of televisions, computers (towers), computer monitors, and laptops. This service is available to residents of Washington, small businesses, and schools.
There are five Washington State E-Cycle collectors in Lewis County where e-cycle waste may be dropped off for FREE:
The Goodwill Store located at 519 Harrison Avenue in Centralia. Call 360-736-3828 for more information and hours of operation
Tiger Mountain Technologies located at 208 Second Street in Morton. Call 360-496-6161 for more information and hours of operation.
Visit the Washington State e-cycle website today! For more information visit the website or call 1-800-recycle.
In addition to the locations listed above, the following items are accepted at your local Staples store for recycling at no cost to you (there is a limit of 7 items per customer per day):
Accessories/adapters/cables, copiers, hard drives, scanners, all-in-one computers, cordless phones, iPod/MP3 players, shredders, cable/satellite receivers, desktop computers, keyboards & mice, small servers, calculators, digital cameras, laptops, stereo receivers, camcorders, digital projectors, mobile phones, tablets, CD/DVD/Blu-ray players, eReaders, Modems, UPS/battery backup devices, coffee brewers (less than 40 lbs.), fax machines, monitors (including CRT, LED/LCD, plasma), video streaming devices (Apple TV, Roku, Plyer, etc.), computer speakers, gaming consoles/handhelds, printers/multi funtion devices, webcams, connected home devices, GPS devices, routers, flashdrives, and rechargeable batteries.
Items not accepted:
Alkaline batteries, appliances, floor-model printers and copiers, kitchen electronics, lamps or bulbs, large speakers, smoke detectors, large servers, non-rechargeable lithium batteries, televisions.
Lewis County strongly urges customers to use the free locations listed above.