7 New COVID-19 Cases Announced in Lewis County
Chehalis, WA – Lewis County Public Health & Social Services (LCPHSS) announced today that seven more county residents have tested positive for COVID-19. This is the largest single-day rise in positive test results and brings the total number of known county residents with positive tests to 48.
Five of the seven are individuals in their 20s, one is in their 60s, and one is in their 80s. One person is hospitalized. Six of the seven live in District 2, one in District 1. Breaking all cases and recoveries to date down by County Commissioner district shows:
........................Cases........Recovered
District 1 ........... 23 ............... 16
District 2 ........... 17 ................. 8
District 3 ............. 8 ................. 7
LCPHSS Director J.P. Anderson said the seven new cases do not appear to have been from any single event. "In looking at the testing data, these cases look to be evidence of community transmission. That means the virus is spreading from person to person throughout the county," he said.
To date there have been 2,543 tests administered in Lewis County, with 48 cases confirmed (1.6% positive). The number of tests per week have been fairly consistent since early April, so this spike in today's positive tests is not due to increased level of testing, according to Anderson.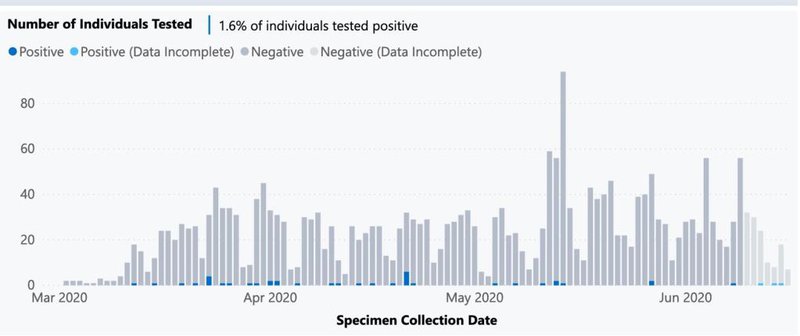 Caption: Daily COVID-19 testing in Lewis County has remained fairly constant since early April. The mid-May spike was a congregate center testing event. Source: WA DOH
Click here for full press release.
---